About Joanne & Janine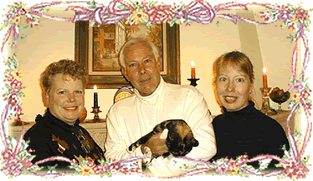 We are a mother/daughter team who's passion for glass started in 1975 with 49 pieces of azure Fostoria Versailles unearthed on a family vacation. Today, we travel throughout California, Oregon & Colorado to sell at Depression Glass shows. Thank goodness for husband/dad Dale who drives, hauls and helps us with over 15,000 pieces of glass our business handles each year. We also sell on Ebay, click here for our list! We look forward to helping you add to your collection.

To Place a Request
Fill out the REQUEST FORM, submit, and we'll contact you by email with our current list of items in your pattern(s).
Terms
We accept Credit Cards through Pay Pal or by calling 831-647-9957. Money orders and checks must be received within seven days from date of confirmation. Checks are held for clearing (up to 10 days) before glass is shipped. Ordered items will be held until check has cleared. All items are subject to prior sale and are priced each unless otherwise noted.
Guarantees
We guarantee that pieces will meet the specifications described, and they will be free from defect except for normal wear (unless otherwise noted). Returns/refunds may be made within 7 days with prior approval and label intact.
Shipping Policies
Glass is packed with bubble wrap and peanuts. We ship USPS unless client specifies otherwise. Minimum charge for shipping, handling and insurance is $8.00.
We Buy!
Fair prices paid for Depression Era Glassware.
Please feel free to contact us at benderglass.com.
For further information, e-mail:


About Us Contact Us Pattern Requests Shows Gallery

Home



Copyright ©2003
Joanne & Janine Bender